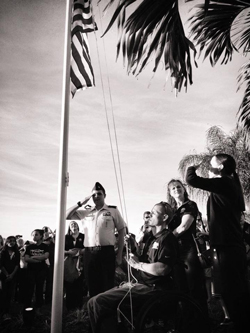 According to a 101 Mobility news release, the national nonprofit Homes for Our Troops recently teamed up with local contractors and mobility providers, including the Wilmington, NC-based company, to provide a fully accessible home for Army Staff Sergeant (SSG) Alex Dillmann.
Dillmann was paralyzed from the chest down following an IED blast in Afghanistan. The release states that construction on the universally designed home began in January 2013 and was completed in December 2013. The completion stems from work and donations from volunteers, accessibility equipment providers such as 101 Mobility, Harmar, and Mowen, as well as local contractors including Aziz Construction.
Homes for Our Troops aims to ensure that severely injured veterans receive custom adaptive homes to allow them to lead independent lives. The release reports that the nonprofit raised money, collected building materials, and coordinated labor to build a home for the Dillmann family, who will officially move into the home this month.
"What we're doing for [SSG Dillmann] just seems so minor compared to what he's done for us," Dennis Clouser, owner of 101 Mobility Tampa, emphasizes.
The release states that the new Tampa, Fla-based house features ADA compliant hallways and walkways, touchpad controls, lowered counter spaces with wheelchair accessible spaces underneath, and cupboards that pull out and drop down. The house also features an automatically powered porch lift designed to allow for eased outdoor access.
Watch Dillmann enter the home here
Source: 101 Mobility