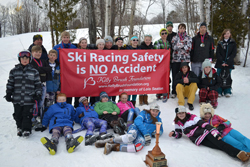 A total of seven clubs and organizations nationwide have received Ski Racing Safety Grants from the Kelly Brush Foundation to support the improvement of safety and injury prevention in Alpine ski racing. According to a news release from the organization, Charlie Brush, president, announced the awarding of the grants.
The Ski Racing Safety total out to $22,912 and were reportedly part of the foundation's annual round of grantmaking. The round of "grantmaking" also included grants to 42 individuals with spinal cord injuries in order to assist them in purchasing adaptive sports equipment and opportunities to participate in adaptive sports.
Brush notes that this year the foundation has been able to do more than ever to assist ski clubs in improving racer safety and, "We are excited to be expanding our reach, both shifting the paradigm when it comes to safety in ski racing and making positive change in lives of those with spinal cord injury."
The Ski Racing Safety grants are designed to assist clubs in purchasing equipment such as B-Net to line racing and training venues and protective gear for racers. The foundation states in the release that since its inception, it has provided grants for more than 400 miles of course netting.
Jim Komarmi, head coach at the Mad River Ski Club in Waitsfield, Vt, calls the support from Kelly Brush for its race program "vital."
"The funding we received enables the club to purchase B-Net to line our training and race venue and comply with USSA requirements. In addition, we will not have to rely on borrowing netting from other clubs, which is a huge improvement for our program," Komarmi adds.
The foundation notes that its Ski Racing Grants are part of a multi-faceted approach to promote safety of the sport. The foundation also requires that clubs' racing venues be homologated, meeting the current standard set by the US Ski and Snowboard Association, as a condition of qualification for safety equipment grants.
Additionally, the foundation also highlights its aim to promote safety in all individuals involved in the sport, from race directors to coaches to athletes, through its Ski Racing Safety "No Accident" campaign, which includes poster distribution to clubs and academies nationally.
According to the release, the foundation raises the majority of its funds through the annual Kelly Brush Century Ride Powered by VBT Bicycle and Walking Vacations. The event has raised nearly $1.5 million for adaptive athletes and ski racing safety during the past 8 years. The ninth annual ride is slated for September 6.
[Source: Kelly Brush Foundation]