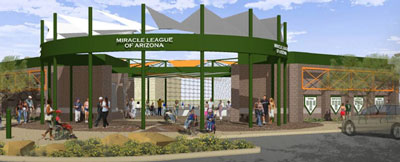 The Miracle League of Arizona, a non-profit organization headquartered in North Scottsdale, recently received a donation of $10,000 and volunteer hours from Vantage Mobility International (VMI). The Miracle League of Arizona aims to provide a safe and successful baseball experience for children, teens, and adults with disabilities or special healthcare needs.
The donation will fund the non-profit's purchase of MLB jersey and baseball caps for athletes. It will also assist in the purchase of "buddy" t-shirts for the volunteers who help more than 200 players ranging from age 4 and up. A news release from VMI notes that the Miracle League of Arizona provides adaptive baseball at an accessible stadium featuring rubberized turf to allow eased maneuverability for wheelchairs and other devices. The facility also offers accessible bathrooms, private caregiver rooms, an adaptive playground, picnic area, and bleachers for families.
Athletes are placed in a league based upon age and skill level. They are then matched with a "buddy" who serves as both a friend and a helper. The release notes that the games are success oriented and each athlete is encouraged to accomplish as much as possible on their own. "Buddies" are present to assist with anything they cannot do on their own.
Monique McGivney, director of corporate communication at VMI, articulates the company's pride in partnering with The Miracle League of Arizona, "Their state-of-the-art baseball stadium gives children with disabilities the opportunity to enjoy America's favorite pastime and all of the excitement that comes with the game," McGivney says. She adds that VMI is proud to provide both financial assistance and to volunteer its time to assist the athletes.
Dan Haren Sr, executive director of The Miracle League of Arizona, echoes McGivney's sentiment, adding that in addition to assisting the organization in building the stadium, VMI has assisted in delivering cost-free programming to children and families who enjoy the facility. "We're truly fortunate to have such compassionate business leaders as Doug Eaton and his team at VMI," Haren says.
Photo Credit: VMI
Source: VMI