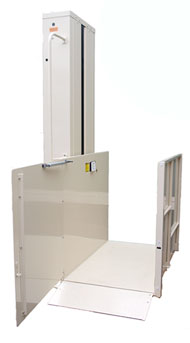 New vertical platform wheelchair lifts, engineered to be durable and offer users ease of operation, are now available through Butler Mobility Products, Lewisberry, Pa. The Vertical Wheelchair Lift is an adjustable platform lift that can be adjusted to lift or lower to the specific height required by the user. The company notes that the lift can be used to enhance access both indoors and out.
The product features a control paddle and key lock. Its standard safety features include 42-inch-high solid side panels, automatic folding access ramp, emergency stop switch, nonskid platform and ramp, and a powder-coated finish with weather-sealed controls. The Vertical Wheelchair Lift also offers users a manual emergency crank, constant pressure control with key lock, and bottom safety pan.
For more information, visit www.butlermobility.com.
[Source: Butler Mobility Products]