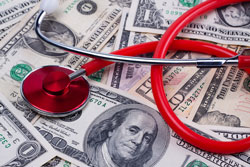 Magee Rehabilitation Hospital will host the 13th Annual Night of Champions fundraiser May 3 at Penns Landing Caterers, the hospital states. The hospital notes that the fundraiser's proceeds will go to benefit its community and patient programs, such as wheelchair sports, adjunctive therapies, Patient Resource Center, and Gaspar Center.
The evening is scheduled to include dinner, live and silent auctions, live entertainment, local celebrities, and more. Jack Carroll, president, CEO, Magee Rehabilitation Hospital, designates the event as an opportunity to "celebrate the champions in Magee and in our community—people who have truly made a difference in the lives of people with disabilities. We are thrilled to bring back this event for its 13th amazing year," Carroll says.
A news release from the hospital reports that throughout the evening, guests will have the opportunity to participate in live and silent auctions, as well as raffles, live entertainment by 61 North, and demonstrations by Magee's wheelchair sports teams. The release also notes that the evening will feature the presentation of the 2013 Champion in the Community Award to Lauren E. DeBruicker, Esq, and Joel D. Feldman. DeBruicker is a former Magee patient, practicing lawyer, Magee peer mentor, quad rugby player, and serves on the boards of many local charities, Magee states. Feldman has reportedly spent more than 30 years assisting individuals recovering from serious injuries and works to raise awareness about the dangers of distracted driving. Feldman also is involved in Magee's Facility Dog Program.
For more information about this event, contact giving@nullmageerehab.com.
[Source: Magee Rehabilitation Hospital]