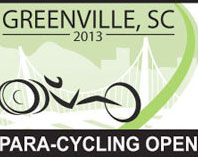 Invacare Top End will serve as title sponsor of the April 19 Greenville 2013 Para-Cycling Open, the Invacare Corporation reports. The event is slated to be held in Greenville, SC, from April 19 to 21. The event offers the opportunity for beginning handcyclists, para-cyclists, and top athletes to compete on, ride, and experience the course, Invacare says. A news release notes that the city is also scheduled to host the 2014 UCI Para-Cycling World Championships.
Chris Peterson, director, Invacare Top End, designates handcycling as a serious sport that continues to grow, "We are excited to support the 2013 Para-Cycling Open because handcycling is great exercise and as the sport grows, more people are able to participate and see those health benefits," Peterson says.
The release notes that the Team Invacare handcycle athletes are comprised of Muffy Davis, Matt Updike, Mark Ledo, David Randall, and Monica Bacio.
For more information about this event, click here.
Source: Invacare Corporation