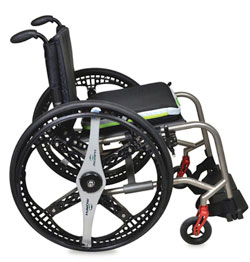 Foldable wheelchair wheels, designed for users who are "on-the-go," are available through Maddak Inc, headquartered in Wayne, NJ. Once disconnected from the wheelchair frame, Morph Wheels are engineered to fold to approximately half their open size to ease transport and storage by car or airplane by allowing users to store the product in overhead bins, airplane closets, or under seats.
The Morph Wheels include rim, push rim, and solid tire. The product is also designed to fit any wheelchair with a standard quick-release axle. The axle is intended as a fail-safe mechanism, Maddak says, ensuring that as long as it is connected to the hub of the wheel there is no risk of the wheel folding when in use.
For more information, visit www.maddak.com.
[Source: Maddak Inc]