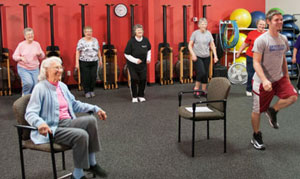 A study appearing in the Journals of Gerontology Series A: Biological Sciences and Medical Sciences indicates that older adults may benefit from a home-based DVD exercise program. During the study, researchers say, 307 older adults from 83 towns and cities in Central Illinois were recruited.
Half of the study's participants reportedly used a special fitness video at home, while the remaining control group watched a different video about healthy aging. Researchers note that the fitness video used was an outgrowth of years of research centered on interventions intended to enhance the health of older adults. The program, FlexToBa, is designed to improve flexibility, toning, and balance.
The FlexToBa provided users several hours of instruction presented during six sessions, encouraging progressive exercise 3 times a week for 6 months. According to researchers, sets of new challenges assisted in keeping study participants engaged and encouraged them to build on their achievements. A series of exercises was demonstrated, with age-appropriate models offering alternate approaches for individuals who found the exercise too challenging or too easy.
The researchers add that they asked participants to complete daily exercise logs and received short support telephone calls with exercise tips every other week for the first 2 months, then every month. The study indicates that the control group also received support telephone calls.
After 6 months, study results suggest that individuals who stayed with the FlexToBa program saw, "clinically important" improvements in scores on a range of tests of physical function as compared with the control group. The tests were designed to assess strength, balance, and gait. The results indicate that these tests were proven to be useful indicators of future performance, disability, and independence in older adults; with FlexToBa participants exhibiting improved increases in upper body strength and balance when compared to the control group.
Edward McAuley, PhD, (pictured above, right) study leader, University of Illinois kinesiology, community health professor, explains that, "This has important implications for an increasingly elderly population who are at risk for subsequent declines in function and increased disability. We now know that this type of program can help prevent that decline, and possibly reverse it."
Photo Credit: L. Brian Stauffer
Source: University of Illinois at Urbana-Champaign