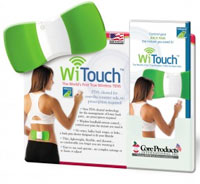 Core Products International Inc, headquartered in Osceola, Wash, reports that it now markets a wireless remote-controlled pain relief device, designed to use TENS technology in order to target back pain. The Hollywog WiTouch features a compact design and is engineered to maximize energy efficiency and provide more than 150 30-minute treatment sessions per battery.
The product also offers users replaceable gel pads to accommodate multiple back pain applications. Its design is intended to provide users flexibility, comfort, discreetness, and contours to the back to optimize surface contact.
For more information, visit www.coreproducts.com.
[Source: Core Products]