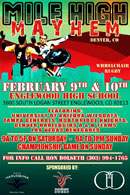 More than 60 wheelchair athletes are slated to compete this weekend in a Wheelchair Rugby Tournament at Englewood high school in Colorado. Craig Hospital, the Denver Harlequins Wheelchair Rugby Club, Denver Harlequins Rugby Club, and the City of Englewood are reportedly hosting the event, which will feature 5 recognized rugby teams. Athletes competing in the event hail from the University of Arizona Wildcats, Tampa Generals, Northridge, CA Knights, Las Vegas Renegades, and Denver Harlequins A&B Teams.
Craig Hospital notes in a recent news release that the event will be open to the media with players, families, coaches, and tournament organizations available for interview. The release also notes that that Randy Penn, Mayor, Englewood, Colo, encouraged the tournament's facilitation.
The concept for the tournament, Craig Hospital says, stemmed from Penn's desire to bring the sport to the city of Englewood and the Denver area. Penn also supported Jason Regier, team captain of the Denver Harlequins, and former Craig Hospital patient, and the Denver Harlequins in organizing the event.
The event is open to the public and while admission is free, donations to the Denver Harlequins Club are encouraged.
For more information, about the Denver Harlequins Wheelchair Rugby club, contact rbolseth@nullhotmail.com
For more information about Craig Hospital, click here.
Source: Craig Hospital