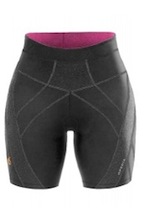 Opedix has introduced a new line of joint support compression garments intended to optimize recovery, training, and participation in physical activities. The company's CORE-Tec Shorts feature new technological tensioning systems within a form-fitting base layer designed to enhance the body's kinetic functioning, support the core, and maximize hip and knee joint function.
According to Opedix, the CORE-Tec Shorts may assist in reducing low back pain, rate of muscle fatigue, and knee pain. The company adds that the product is also tested to improve core stability and dynamic balance.
The breathable product also reportedly features a four-way stretch to promote muscular blood flow for improved recovery and performance, as well as moisture wicking technology.
For more information, visit www.opedix.com.
[Source: Opedix]