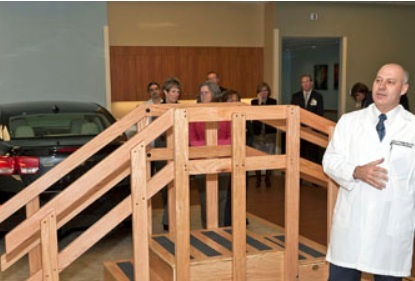 Beaumont Hospital, Troy, Mich, recently announced the opening of its new Inpatient Rehabilitation Unit, designed to provide a wide range of rehabilitation services in a 20,000-square-foot setting.
The hospital notes that the new unit features 12 private rooms, a rehabilitation gym, a full-sized car, and an apartment setting intended to assist patients in restoring their activities of daily living, such as driving. John Maltese, MD, director of physical medicine and rehabilitation at Beaumont, Troy, medical director of the rehabilitation unit, notes that the new facility aims to provide a dedicated multidisciplinary space to assist patients in regaining function and enhancing quality of life.
"Individualized plans of care will help patients achieve their optimal physical potential. Family members are encouraged to visit and become actively involved in their loved one's healing process through caregiver education," Borg adds.
The hospital notes in a news release that in order to be admitted to the Inpatient Rehabilitation program, patients must meet admission requirements based on their medical condition, medical history, and ability to participate in up to 3 hours of intense daily physical and occupational therapy.
For more information, visit www.beaumont.edu/rehab.
[Source: Beaumont Hospital, Troy]