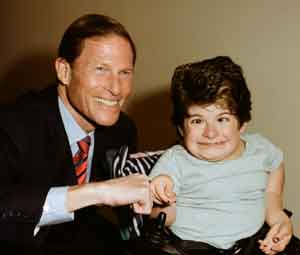 ATG Rehab reports in a recent news release that Senator Richard Blumenthal (D, Conn) (pictured right) recently traveled to meet with two of ATG Rehab's customers and executives at its Rocky Hill, Conn-based location to assist in securing access to complex rehab technology and services for individuals living with disabilities. The release notes that Don Clayback, executive director at NCART (National Coalition for Assistive and Rehab Technology) and Ed Curley, vice president, Hudson Seating & Mobility were also in attendance for the meeting.
During the meeting, customers Gary Kuchachik and young Lexi Charbonneau, aged 11 years old (pictured far right), outlined the necessity of having appropriate seating and control modifications in order to remain independent and functional. According to Kuchachik and Charbonneau, the support of the company's ATP and the delivery of their specific complex rehab technology allows them to remain comfortable while performing activities of daily living and to maintain quality of life.
Paul Bergantino, president and CEO, ATG Rehab, and Frank Biondello, division president, also gave Blumenthal a tour of the company's 25,000-square-foot facility. Each discussed and provided product demonstrations that illustrated the differences between complex rehab technology and standard power mobility and home medical equipment for the senator. Bergantino and Biondello also encouraged Blumenthal to work in the Senate to promote policies that improve access to complex rehab technology, such as HR 4378, the Ensuring Access to Quality Complex Rehabilitation Technology Act of 2012.
Bergantino notes that the legislation addresses a critical issue for people living with disabilities and "represents an important next step in the protection of their civil rights. We're delighted that Senator Blumenthal has taken the time to learn how ATG and our complex rehab partners are working to improve our clients' access to the equipment and services that help them maintain their independence."
[Source: ATG Rehab]