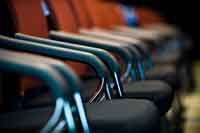 The National Mobility Equipment Dealers Association (NMEDA) 22nd Annual Conference is slated for February 6 to February 8 and will be held at the Daytona Beach, Fla, Ocean Center, a recent news release announces. The convention is intended to offer attendees and exhibitors the opportunity to observe and showcase new mobility solutions, discuss industry issues, and participate in networking events and educational workshops to advance their personal development and their business.
The release notes that the conference will also feature Jim Abbot and Richard Farrell as keynote speakers. The NMEDA notes that Abbot was born without a right hand and developed into a competitive athlete, winning the AAU's Sullivan Award, achieving All-American status as a pitcher at the University of Michigan, pitching for the 1998 US Gold Medal Olympic Team, and throwing a 4-0 no-hitter for the New York Yankees during their game against the Cleveland Indians.
Farrell, president, Tangent Knowledge Systems, a national sales development and training firm, trains and speaks around the world, and has authored many articles about his non-selling sales posture, the organization reports. He is also the author of the upcoming book, Selling Has Nothing to Do with Selling.
Dave Hubbard, executive director and CEO, NMEDA, emphasizes that the "NMEDA is committed to advancing the mobility equipment sector, and this conference is key to our effort, including our communications efforts to unite our members for important programs such as National Mobility Awareness Month."
[Source: NMEDA]