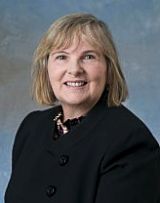 In a recent news release, Helen Hayes Hospital headquartered in West Haverstraw, NY, reports that it has appointed Janet Murgittroyd as its director of medical records. In her new role, Murgittroyd will be responsible for managing the patient records of the rehabilitation hospital, Virgil Ennis, chief information officer, explains.
The release notes that Murgittroyd joins Helen Hayes after serving as the director of medical records for Columbus Hospital LTACH, Newark, NJ, and brings more than 30 years of experience in the medical record field to her new position. She has also served in multiple roles at Hoboken University Medical Center, Christ Hospital in Jersey City, St. Vincent's Cancer Center in New York City, and The Valley Hospital in Ridgewood, NJ.
Murgittroyd holds a bachelor's degree from Nyack College and is a registered health information administrator (RHIA) and certified coding specialist (CCS).
Murgittroyd emphasizes her excitement in joining Helen Hayes Hospital, as the hospital, "has an excellent electronic medical records system, along with an outstanding reputation for excellence in the provision of rehabilitation medicine," Murgittroyd says.
Source: Helen Hayes Hospital