Research, Restoration, and Recovery for Brain and Spinal Cord Injuries and Disorders.
Kennedy Krieger Institute is an internationally recognized leader in providing comprehensive rehabilitative services for individuals with disorders of the brain, spinal cord, and musculoskeletal system. Its rehabilitation programs are known for pioneering a "continuum of care" model that provides for coordinated care across the inpatient, outpatient, and community settings and emphasizes re-integration back into the home, school, and community.
REHABILITATION – THE CORE PHILOSOPHY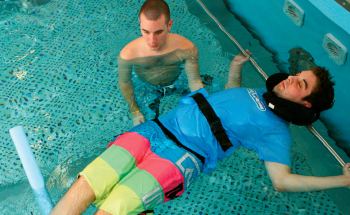 Kennedy Krieger Institute has provided a diverse continuum of rehabilitative care, and evidence-based therapies to patients for three-quarters of a century, using individualized care to unlock patients' potential.
A number of core ideas drive Kennedy Krieger's approach to rehabilitation, including:
Individualized care – Highly trained professionals from various fields and departments collaborate to create rehabilitation plans tailored to the special needs of each patient.
Innovative approaches – The facility offers sophisticated technology designed to help patients reach their rehabilitative goals and promote the well-being of patients and their families. Further, Kennedy Krieger Institute's involvement in and dedication to research ensures it can swiftly translate medical discoveries to innovative treatments and improved patient care.
Evidence-based therapies – The consistent collection of clinical data allows therapies to be analyzed and adjusted, yielding proven approaches to ensure patients will achieve rehabilitative success.
Community Transition – Multiple family training and therapy programs are offered that are designed to ensure patients are able to gain independence and improved function.
PROGRAM SPOTLIGHT: BRAIN INJURY
The Pediatric Brain Injury program at Kennedy Krieger Institute helps children and young adults recover from their injuries and successfully transition back to family, school, and community life. An experienced, interdisciplinary team evaluates each patient and creates an intensive treatment plan based on the unique needs of each patient and his or her family. This program includes:
Comprehensive services across the spectrum of brain injury, from mild to severe.
Rehabilitative services include physical, occupational and recreational therapy, speech and language therapy, behavioral therapy, psychology, rehabilitation nursing, and social work—all in one place.
Recovery-focused continuum of care in the inpatient hospital, various outpatient centers, in the home, in school, and in the community.
Long term follow-up and chronic care as patients move through adolescence and young adulthood, including intensive boosts of therapy late after the injury.
PROGRAM SPOTLIGHT: INTERNATIONAL CENTER FOR SPINAL CORD INJURY
Conventional wisdom has long held that the most improvement from spinal cord injuries occurred in the first 6 months of recovery and improvement was virtually impossible after 2 years. Therefore, rehabilitation's primary focus was on teaching patients to compensate for injuries considered irreversible. Conventional wisdom was wrong.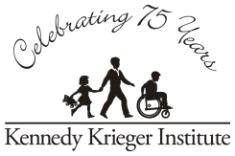 Kennedy Krieger Institute
707 North Broadway
Baltimore, MD 21205
(888) 554-2080
www.kennedykrieger.org
The International Center for Spinal Cord Injury (ICSCI) at Kennedy Krieger Institute blends innovative research with a unique focus on restoration, rehabilitation, and groundbreaking therapies designed to restore function, sensation, mobility, and independence, while offsetting the debilitating complications patients with spinal cord injury experience.
Inpatient and outpatient programs offer the latest in activity-based restorative therapies (ABRT) designed to help patients perform activities that prompt remaining cells to "remember" how to move, while encouraging the growth of new nervous system cells. These therapies include:
Functional Electrical Stimulation (FES) – With FES, a computer sends electrical messages to a patient's arms and legs, signaling his or her limbs to contract and perform a maneuver that would otherwise be impossible.
State-of-the-art adaptive aquatic therapy center – With built-in treadmills, underwater video systems, and multiple jets for resistance, the aquatic therapy center provides the patterned stimulation needed to promote the growth of neural cells.
Partial Body Weight Supported Locomotor Training – Allows an individual to relearn natural walking while recovering mobility.
Written in collaboration with the editors of Rehab Management.